Thinking of studying in Canada by Fall term (Sep) 2019?
The time to apply is now. Applications are open till Dec/Jan/Feb It's very simple
- Decide the program you want
- Search for Universities offering it
- Check requirements & confirm eligibility
- Prepare documents & apply.
If you apply to study in Canada, know that you will compete for limited admission quota with the best of the best from all countries, including students from the USA There are only 96 universities in Canada, make sure your application is outstanding.
Why is Canada now a choice destination for many foreign students?
- It is affordable (especially at graduate level)
- Students can work in & outside the university while studying
- Students can stay back, work & become residents after grad
-Universities are generous with funding
Every document you submit in support of your application matters.
Your grade, letter of intent, CV, proposed research and recommendations are your top 5 requirements for graduate school application.
Again, make sure you submit an outstanding application.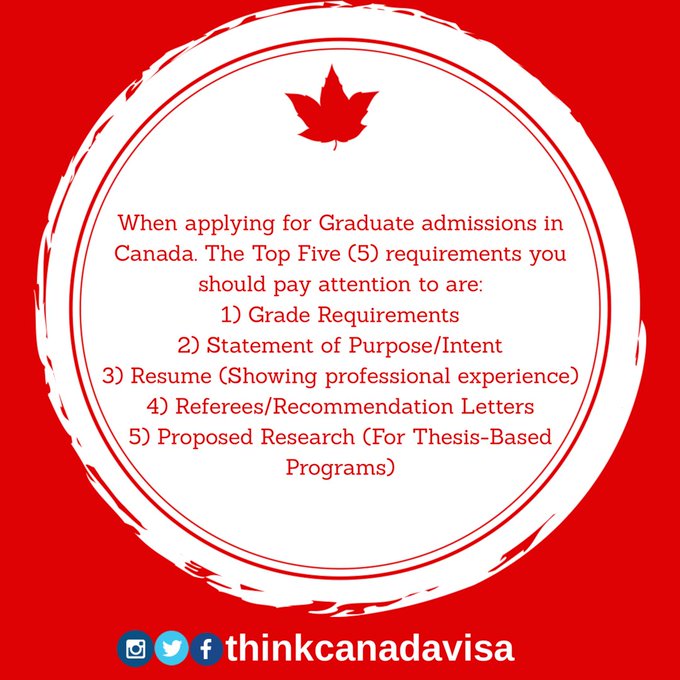 For undergraduate study, your o-level result is the most important requirement. Outstanding grades in the 5 core subjects (Mathematics & English included) matters.
If previous education was taught in English language, you will likely receive waiver for language proficiency test.
For funding consideration, many (if not all) Canadian universities will also not require you to make a separate application for funding. You are automatically considered for funding when you apply for admission, and notified if awarded (except otherwise stated).
So apply, APPLY!